Cell-free snythetic biology for combinatorial biosensor design
12 Doctoral Candidate Positions for MSCA Doctoral Network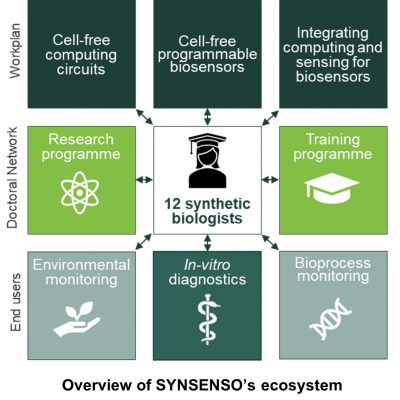 The Doctoral Network SYNSENSO "Cell-free synthetic biology for combinatorial biosensor design", funded within the framework of the Marie Skłodowska-Curie Actions (MSCA), follows an interdisciplinary and cross-sectoral approach by bringing together academic and industrial experts from the fields of cell-free synthetic biology and molecular sensor design to develop novel combinatorial biosensors.
Five academic research groups and two industrial partners, coordinated by Technische Universität Darmstadt in Germany, join forces in SYNSENSO to create a mobility and training platform for young scientists by means of cross-site, interdisciplinary research projects. The DCs will work on individual research projects in order to devise new logic circuits in cell-free systems, build novel responsive elements for analyte detection and integrate logic circuits with response elements to build and test next-generation, combinatorial biosensors.
The project offers the DCs research and training excellence in synthetic biology and biosensor design. The partners of SYNSENSO are leading research groups in synthetic biology and sensors design and their research institutes actively promote young researchers. The 6 academic research groups and 4 partners from the private sector join forces in SYNSENSO to create a platform of intersectoral and multidisciplinary mobility and training. To complement the academic and scientific goals of the DCs, the project offers customized research projects, structured interdisciplinary local and network-wide transferable skills training activities, and secondments at top-ranking European universities and industry partners.
Eligibility Criteria
Supported researchers must be doctoral candidates, i.e. not already in possession of a doctoral degree at the date of the recruitment.
Mobility Rule: researchers must not have resided or carried out their main activity (work, studies, etc.) in the country of the recruiting beneficiary for more than 12 months in the 36 months immediately before their recruitment date.
Additionally, DC applicants must fulfil the local requirements of the recruiting institutions listed in the project descriptions below.
Monthly allowances:
Living allowance*: 3400 €
Mobility allowance: 600 €
Family allowance**: 660 €
Download MSCA Guide for Applicants
MSc, MRes, MEng, or equivalent in Life Science (Biology, Biochemistry, Biophysics, etc), Bioengineering, Physics or a related discipline 
Wet-lab experience, in particular with genetic engineering or molecular biology
Interested to work in the field of synthetic biology
Appreciation for interdisciplinary work and proactive drive to collaborate across disciplines
proficient in English language
Complete applications are written in English; and include a CV, copies of transcripts of any obtained degrees, as well as contact details of two possible referees. Additionally, applicants should provide a ranked list of preferred DC projects.
Applications should be submitted via e-mail as a single pdf file to synsenso@tu-darmstadt.de
The individual DC projects are set to start between 01.09.2022 and 31.03.2023.
Disclaimer: Please note that due to a high volume of applications received, we are unable to contact each applicant individually regarding the status of their application.